About Onyrica
I'm a freelance illustrator & commission artist specialising in character design and fanart. I'm also a mentor to new and intermediate level artists, working with them on improving and overcoming the hurdles holding them back.

Although I live in the UK, somewhere North East of London, I'm actually an export from sunny Spain. This means I'm bilingual, have no control over my outdoor voice and will quite readily 'alpargata' you for suggesting paella contains choriTzo.

In those rare spare moments I get every fortnight, you might find me playing Final Fantasy XIV as Onyrica Al'erye - probably jammed in between the boxes at the Quicksand, making new players think I'm an NPC.
Art and Mentorship
Although most of my work revolves around creating original and fan illustrations, a huge part of my day to day is providing support to other budding artists with art resources - such as videos, livestreams, brushes and textures - and direct feedback via a lively Discord art community.

Art mentorship comes in many shapes and is best when tailored to the person's level and personality. Through Patreon, I am able to get directly involved in this special hub where artists can ask questions, learn and support each other's progress and growth within a tight-knit community.

You can find out more in my mentorship page - or simply head on straight to supporting this mission on Patreon!
Commissions
For professional work and projects, please email me at: hello@onyrica.art

----

For private and personal commissions, please refer to my commission information page here.
Mentorship information
Hello, wat dis?
So you used to draw in high school but you stopped and although you really want to pick it back up, you have no idea on where to start.

Or you've been drawing for a while but keep drawing characters with their hands in their pockets because the fingers were looking a little 'sausagy' and you don't know why.

Or you've never touched a pencil before and joke about how you can draw a mean stick figure, but deep down you know that you're dying to draw a nice, round boy.
Well hello, I'm Ony and I can be your Art Mom!
Art mentorship comes in many shapes and is best when tailored to the person's level and personality. Through Patreon, I run a Discord community - The Artroom - that welcomes everyone but provides a special hub for artists to share resources, feedback and support each other's progress and growth in their own art styles.

Through The Artroom, I provide a variety of tools and services for all patrons on any of the current tiers, such as:
Direct feedback on your pieces in text and paintover form

Livestream Q&As where I'll do paintovers and answer art questions in real time, as well as provide tips and insight based on individual needs and skill

Timelapses of my own art process- both lineart and color

WIPs of different stages of my art, so you can see not just how I build a piece step by step, but also where I struggle and how I overcome it
Additionally, patrons on the Advanced and Extreme tiers also get:
A dedicated 30 minute private session each month where we can go over any art-related topic or feedback you need, including (but not limited to!): art portfolio reviews, paintovers, help with anatomy or gesture and even social media and website reviews. The session is all about you and wherever you are in your art journey!
Once you join my Patreon, you will be added automatically to The Artroom with full access to all of the art-related chatrooms and resources. And of course once you're in there, you'll be more than welcome to DM me if you have any specific questions or needs!

Note: Patreon will add you automatically if you have connected a Discord ID to your user account. If not, go into Settings > App and do it manually so it will prompt you to join the Discord of people you pledge to.

Need some extra input before you take the leap? Check out some samples below or email me at hello@onyrica.art
Made your mind up and decided that this is going to be the year in which you finally draw the 85 OCs you've written an encyclopedia's worth of lore on?
---
Samples
Paintovers
Artwork credit to Bawdraws
Livestream Q&A
Timelapse
Was that all you needed to see? Then come along and...
---
Commission information
Professional projects
For business enquiries, please contact hello@onyrica.art to discuss your requirements.
---
Personal commissions
COMMISSION STATUS: CLOSED
Next slots opening: Winter 2021-22
(for Patreon supporters)

Commission Prices

---
Hi there! First, thank you so much for your interest in my commissions. It means a lot that you'd like to have your characters drawn by me!

[ My next planned opening will be in Winter 2021-22 (Before March) ]

Please note that the number and type of slots in this batch will be limited. More information on the last opening can be found here.

Whenever slots become available, they're offered exclusively to my Patreon supporters. When this happens, I announce it to my patrons via my Patreon page and discord along with all the relevant information (i.e, who is eligible, what kind of slots I'm offering, pricing, etc). Patrons on the highest tiers (Extreme & Advanced) are always given first notice and priority when opening slots.
---
Is there any other way to get art from you if your commissions are closed?
Yes, and it's actually the most reliable way to get art from me these days.

Through my Patreon you get access to StarStickers, my reward portal, where all supporters collect points just for pledging. These points can then be cashed in for free art - such as lineart and color busts, couples portraits and more - as well as art lessons and prints in my reward portal!

Find out more about StarStickers!
---
Alright, think I've got it!
---
Other Frequently Asked Questions:

Do you open commissions to non-patrons?
When I open commissions, I offer them first to Patreon supporters who have been pledging and waiting for slots to open. As this usually fills up all availability very quickly, it leaves me with no capacity to open slots to the public.

Why do you only offer commission slots to patrons?
While commissions are not inherently a reward for pledging, they are a way for me to say thank you to those who help me make ends meet as a freelance artist.

The truth about commissions is that they hardly pay the bills on their own. While I am very fortunate to get a lot of requests I can only work on them so fast without compromising the quality of my art, my ability to mentor other artists or my health.

By offering them to patrons, I get to work in smaller batches with the people who have helped me make a steady income, which means I can keep my prices affordable and take the time I need to give them the best of my ability.

How long will it take to get a commission if I pledge today?
Commission batches open seasonally (Spring, Summer, Autumn and Winter) and the number and type of slots varies per opening. With that in mind, the honest answer to this this question is: I don't know.

While I average 10 hours of work per day, the reality is that I get a lot of requests and good art takes time. I will never compromise on the quality of the pieces I deliver just to churn them out faster and because of that, I cannot estimate a time in which anyone will get a commission by. That said, commissions are my top work priority and I aim to deliver them as quickly and efficiently as possible.

If you want to pledge to support me while you wait, I'd be more than grateful! By doing this, you will also have been accumulating points that you can then use to get free art!

What if I pledge at a lower tier?
As stated above, patrons on the Extreme and Advanced tiers will get first dibs on any available slots, while any remaining availability will be offered on a first-come-first-serve basis to any patrons on the lower tiers. Please do note that there is no guarantee that there will be slots available this way.

If I pledge, can I have my commission right away?
All commission slots are allocated on the basis of pledge seniority- so those patrons who have been pledging for the longest and haven't had a commission made yet will be given priority. Meaning: the sooner you pledge, the more you'll be prioritised.

Can I get it faster if I pay a rush fee?
I accept one rush fee order at a time, with a minimum turnaround time of 3 weeks. The price and conditions of this will depend greatly on personal circumstance, so please message me (or email me at hello@onyrica.art) to enquire further.

I.e, Please do NOT assume I can have it done by a specific deadline until you've spoken to me.

Can you put me on a wait list/notify me when your slots open?
I'm afraid I can't. I get upwards of 100 commission enquiries a month and I can't humanly keep track of them all. The best way to find out when my slots are opening is to keep an eye on this page or on my Discord server if you're a patron.

Do you draw for free / gold / blood sacrifices?
No.
---
Got more questions? Please do contact me on hello@onyrica.art if there's anything you wish to know that I haven't covered here!
StarStickers
So, what is StarStickers?
StarStickers is my reward shop, which you get access to by pledging to my Patreon!

Every month you'll get points just for being a supporter, which you can then spend on all kinds of freebies and perks. You can also get more points by participating in monthly creative challenges, referring friends or pledge anniversaries- as well as, of course, upgrading your tier.

I'm always looking for new ways to earn more points or add new rewards, so check in often to see what's new!
How do I get points?
The easiest way is simply by just being a Patron! The amount will depend on your membership tier:

Easy tier (5$ p/month): 5 points
Intermediate tier (10$ p/month): 10 points
Advanced tier (20$ p/month): 20 points
Extreme tier (50$ p/month): 50 points
---
What about extra points?
So I hear you need a few extra points to get that sketch of your 47th DnD character? I've got you covered! Below is a list of all the ways you can get bonus points:

CREATIVE CHALLENGES
No better way to take the dust off that art tablet you bought 5 years ago on an inspired impulse buy! Every month I publish a creative challenge with a loose theme on the Artroom Discord and Patreon timeline. The challenges are open to all forms of media: drawing, writing, photobashing, sculpting, interpretative dancing… most importantly though, they are open to everyone and all skill levels. As long as enough time, care and effort was put into the piece, it will qualify for points!
Reward for this event: 5 to 10 points/month

REFER A FRIEND
Everything's better with a friend- especially if you get something out of it! If you convince a friend to join my Patreon, you will both get a double point boost on the tier your friend signs up to! E.g: If your friend joins the Intermediate tier, you will both get 10 points on top of your monthly allocation. This bonus applies one time per friend, but will be reapplied for new referrals- meaning, the more friends you bring, the more points you get!
Please note: New friends must be pledged for at least a month before the referee points get allocated to your account.
Reward for this event: x2 friend tier points / once per friend

PLEDGE ANNIVERSARY
Happy Patreon Birthday to youuuu! If you've been pledged for a year- first off, THANK YOU. To celebrate your Artling anniversary, I'll double that month's points for the tier you're pledged to at the time! This bonus will be applied for every pledge anniversary- with likely bonus points being added the longer you pledge. Because Starstickers are better than cake.
Reward for this event: x2 tier points/one-off per year

New point events coming soon!
I'm constantly looking for new ways to offer more to my patrons, so check back for new ways to earn points!
---
How do I spend my points?
Once you've collected enough points for a reward, simply go to the front page of StarStickers and click on the reward you wish to redeem. The process is fairly straightforward- if a little different depending on the reward you choose.

For illustrated rewards, you'll be asked to upload references and a description of what you're after. For other rewards, such as lessons or discounts, you will have to message me to speficy when and how you want to book it in.
---
What happens if I change or delete my pledge?
If you increase your pledge, you will get the difference in points applied to your account immediately!

If you reduce your pledge, the points you received at the start of the month will remain the same (i.e, no points will be deducted). Going forward, you will receive the lower amount of the tier you're on.

If you delete your pledge, your account will be frozen but your points will remain untouched. If you decide to rejoin at any stage, your account will be reactivated with all the points you left off with.
---
I'd like to get some points now!
Lovely! Then here's a big, shiny button for you:
---
Got more questions? Please do contact me on hello@onyrica.art if there's anything you wish to know that I haven't covered here!
Commission Prices (2021)
Commission slots only ever open exclusively to Patreon supporters.
For more in-depth information, please visit my Commission info page here.
Pricing
These prices are an expected estimate per character for regular orders. Illustrations with backgrounds, complex poses, armor or details will have a surcharge applied based on the complexity of the request. Please check the table and information below for more details and samples.

Please note that my regularly offered slots are for Lineart and Color pieces.
"Full Render" pieces are limited and subject to availability.
_____
| Type | Render | Price (GBP) |
| --- | --- | --- |
| Bust | Lineart | £75 |
| - | Color | £100 |
| - | Render | £200 |
| Half body | Lineart | £140 |
| - | Color | £180 |
| - | Render | £300 |
| Full Body | Lineart | £200 |
| - | Color | £260 |
| - | Render | £500 |
| Chibi | Lineart | £40 |
| - | Color | £65 |
ADDITIONAL COSTS:

Background | Complex armor and details | Original design (armor or character):
50 to 100% of price of commission, depending on project complexity and information/references delivered.

Licensing fee for commercial purposes: Please contact to enquire on hello@onyrica.art
_____
Regular samples
You can find more samples of Lineart, Color, Full Render and Chibi art here.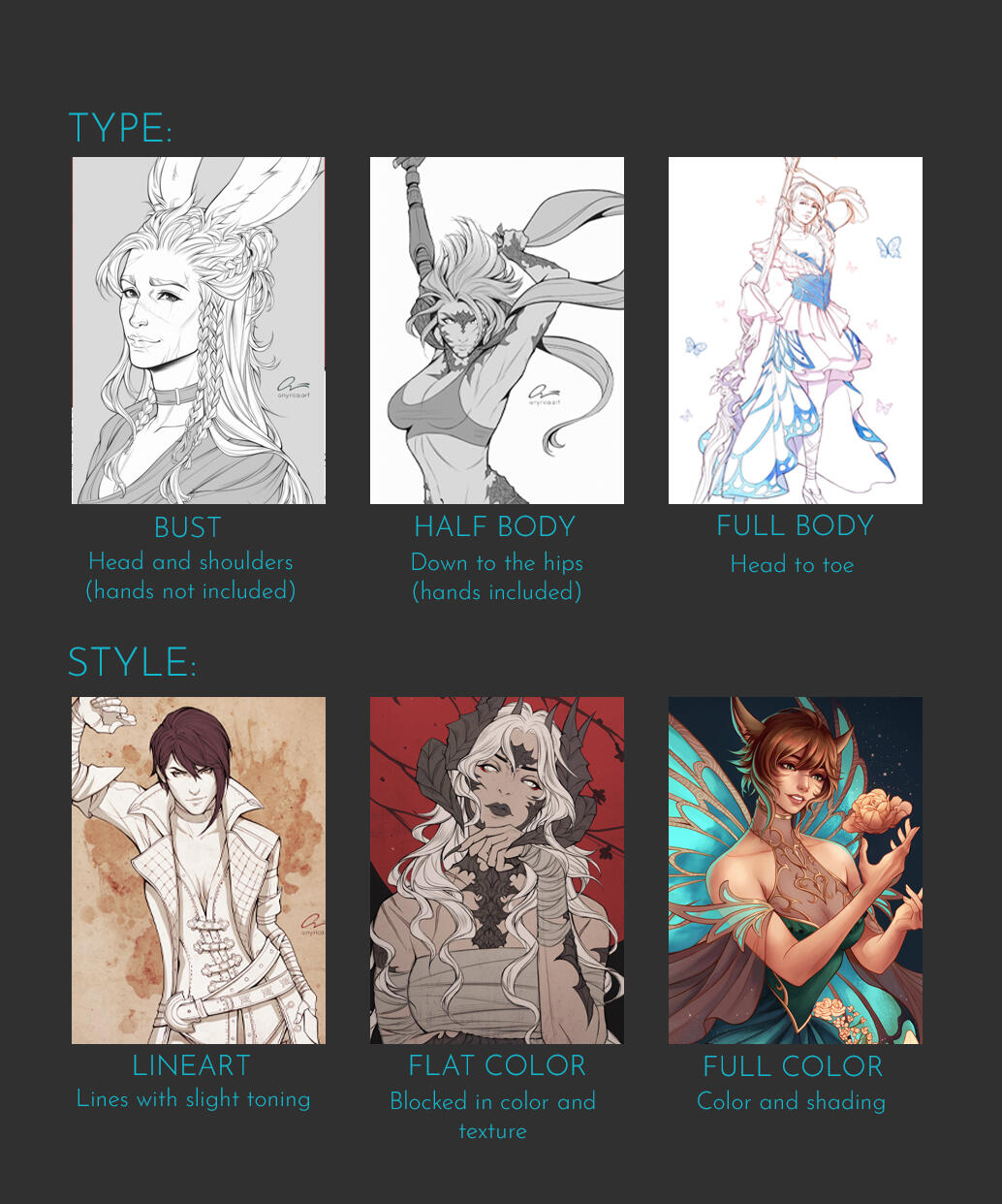 _____
Complex samples
The following pieces had extra costs applied as per their complexity, including:
complicated armor and weapon | dynamic posing | exceptional amount of detail
Got questions? Email me at hello@onyrica.art
Lineart
A lineart piece is a simple, monochrome drawing that focuses on the piece's design and expression. I will usually add some minor shading to create depth and focus, and a splash of color to breathe some life into the characters. This is one of my favourite styles and I find focusing on the line-weight very cathartic.
Color art
These pieces are colored with bright, vivid tones in what's conventionally known as 'cel shading' - a stylized form of rendering, which uses bold shapes and hard shadows to create definition around the visible lineart. This is a very satisfying style to work with, as it allows me to enjoy the best of both worlds: lines and bright, vivid coloring.
Full Render art
Full render art is the most intricate form of rendering. It involves deep shadows and highlights, blended together in seamless transitions to give the image a three dimensional feel. Unlike the simple color pieces, the lineart disappears leaving the shading and contrast to define the image's contours.
Chibi art
A chibi is a very stylised and cute caricature portrait. These are usually painted in a simple color style and focus heavily on the personality and quirks that make a character unique. These are exceptionally fun to draw, as they allow me to relax on the details and experiment on poses and expressions.
Onyrica's art - 3